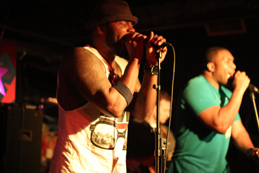 On Thursday Sept 15th, Atlanta's Dirty Boy Social Club hosted the 5th concert in their Dirty Hollywood series. The emcees promised a "spectacular" line-up and indeed it was.
Nutbush, W.I.C. http://www.reverbnation.com/wic, and Grand Prize Winners from Last Year, took us on a joy-ride with no seatbelts and no brakes, slamming us right into acid hip-hop powerhouse Heavy Mojo, who closed the show in their typical fashion: off. the. chain.

Heavy Mojo was the reason I ventured out to Drunken Unicorn at 11pm on a school night and while I am ALWAYS impatient to see one of my favorite bands ever, the Dirty Hollywood Vol. 5 lineup did not disappoint. (except when the hosts of the show fumbled through stage banter in-between sets).

But. Before I go into the GREAT performances I saw at Dirty Hollywood, vol. 5, I have to vent. In my life-long love affair with loud live music, I've never thought a show was TOO loud. Until the Drunken Unicorn. Now, I understand that on Thursday there was a need to drown out the sound of MJQ's deejay, but with all due respect a music venue shouldn't have to crank the volume on its FEATURED PERFORMERS at the expense of the clarity of their sound and the eardrums of their faithful fans. And besides. Even without the earth-shaking decibels, the Dirty Hollywood line up cranked up enough energy to shift tectonic plates.

As a long time fan of Heavy Mojo, I can honestly say that no two shows are ever the same. Heavy Mojo's ability to adapt to their crowd while remaining true to their sound is awesome. And their ability to breathe new life into their older favorites enables Heavy Mojo to perform re-mixed crowd favorites side by side with new releases. This works to keep their sound fresh without alienating the die-hard fans who love to sing along with the band.

At the Dirty Hollywood show, Heavy Mojo opened with a song from their new album: Break of Dawn – The High Speed Dayz. Then they followed up with an updated hardcore version of "Radio" that took all of the energy and angst from their original cut to a brand new level.

While they didn't play my self-proclaimed anthem, "Just Go," (which is track from 2005's Blow Out the Sound that gets better and better every time they perform it) they rocked out with my current favorite, "They Say" and ended with a blazing hot number from Break of Dawn, "Headlights" – their tribute to the Decatur of their youth. This sent the audience into frenzy.

When we left Drunken Unicorn, ears ringing, heart pounding, and fully adrenalized I realized that this show was great for two reasons. I got to see my favorite act, but I was also introduced to talented Atlanta musicians from whom I hope to hear more.

Nutbush opened the evening with a stellar cover of Rage Against the Machine's "Killing in the Name" and then followed with three original numbers including one called "Overflow" which I particularly enjoyed. Their grungy haunting vocals and thrilling instrumentals set a high bar for energy-packed performances.

The W.I.C. trio of DJ Mudfish scratching and spinning for vocalists TriP and Kory Calico followed – taking a turn away from hard core rock and straight into hard core hip-hop, delivering intelligent and driving lyrics with self-described "dance, rock, punk, island, classic hip-hop and progressive" influences. Insane.

Grand Prize Winners from Last Year were up next, taking Drunken Unicorn to yet another level. This band is a whole lot of fun. The lead singer took every opportunity he could to invoke audience participation, including jumping off the stage and into a group of fans front and center. When their set was up, audience was still hungry for more.

And while Grand Prize Winners from Last Year was a tough act to follow, when Heavy Mojo took over the stage, Drunken Unicorn went into hyperdrive.

For those of you unfamiliar with Heavy Mojo, check them out on Facebook https://www.facebook.com/event.php?eid=199561113421001#!/heavymojo for constant show updates and free music downloads. And ABSOLUTELY make sure that you check these guys out. Their live performances are electrifying, addictive, and leave you wanting more and more and more. They consistently out-do themselves and I for one can't wait to see what happens with Heavy Mojo next.

Great job to Dirty Boy Social Club for bringing these great acts together on the stage.