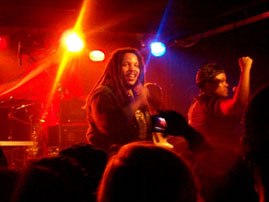 Wow. There is something immensely satisfying about finding out at the last second that an incredible artist is coming to town – scoring the tickets – and being treated to a standing room only, get-down until you fall-down music spectacular. On Tuesday July 19th, Stephen Marley brought a little bit of Jamaica to The Loft to promote his new release, Revelation Part 1: The Root of Life. The show sold out with virtually no advertising, and Stephen Marley and his amazing musicians treated us to a 95 minute set followed by a 30 minute encore and still left us crying for more.
Buffalo Soldier
Marley was a genuine superstar on stage. Revelation Part 1's message of love, pride, and unity shone through the constant smile on his face, and the rich resonance of his timeless voice. When you close your eyes and listen to Stephen Marley sing, you are immersed in the history of his bloodline: the sacrifices and struggles, the joys and the celebrations. And joining us on the journey were the fantastic musicians with whom he shared the stage including drummer Wilburn "Squidly" Cole, saxophonist Dean Fraser, and backup vocalist Erica Newell.
Jammin'
The play list seamlessly shifted from the best of his repertoire to Bob Marley favorites like "Three Little Birds," "Buffalo Soldier," "Punky Reggae Party," and "Jammin," and it featured many songs from Revelation Part 1 including "Break us Apart," "Now I Know," "Made in Africa," and "No Cigarette Smoking (In My Room)."
When the show was over, it was clear that fans wanted more…but after over two hours of reggae magic, we were all breathless. Fans from the very young to the very old had a fantastic time…and we'll all be on the look-out for his next appearance.