The Top 3 Reasons to Listen to Adele 21
On February 22, 2011, Adele released "21" the follow-up to "19," her breakthrough debut. Critics the world over have described "21" as "simply timeless", "haunting", "soaring", "organic", and "poignant", and have compared her vocal stylings to artists such as Amy Winehouse and Dusty Springfield,
but those comparisons are a stretch.
Adele's voice is singularly unique for its rich texture and emotive strength.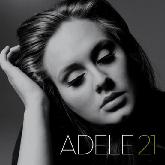 Music lovers across the globe are snatching up her album in record numbers. Sales of "21" have topped the charts in 8 countries, and as of March 28th, its position at Number 1 in the U.K. is poised to surpass records set by Madonna and The Beatles. This girl is good. Collaborating with proven hit-makers such as Paul Epworth, Ryan Tedder, and Dan Wilson, Adele amplifies her raw talent by successfully navigating new musical territory without departing from the sound her fans have grown to adore. While creating this album, Adele "discovered lots of artists [she'd] never heard of, particularly Wanda Jackson, Allison Krauss, Yvonne Fair, Andrew Bird, Neko Case, Lady Antebellum, and Steel Case." Their influences, along with the influences of artists like Sinead O'Connor, Mos Def, and Alanis Morrisette whom she has "loved forever" have only enhanced Adele's sweet and sultry style. Whether she is singing an original piece, or covering a timeless classic, Adele is breathtaking. Her lyrics make you smile (or laugh or cry or nod or clap), her melodies give you goosebumps, and her voice absolutely makes you melt. There are so many things to like about Adele, and about this album – the three reasons you should give it a try are her ability to breathe new life into great songs, the poignant stories she tells, and above all, the beauty of her voice.
#3: She does a mean cover.
Track 10 on "21" is a cover of The Cure's hit Lovesong. Adele matches the gritty emotion of Robert Smith's self-conscious confession with an urgent sensuality that burns. Imagine what she would do to Fiona Apple's "Criminal" or Chris Isaak's "Wicked Game".
#2: The lyrics man…it's the lyrics…
First of all, it's actually kind of hard to hone in on the words to the songs that Adele sings, because it is so easy to get lost in the depth of her voice. But if you are able to tune out the beauty and tune in the words, you'll find it's worth it. Adele writes songs that are simple and honest. She doesn't need to be clever or witty or academic or deep. She is truthful, and the beauty of truth is universal.
#1: That voice.
To say that Adele's voice is beautiful is an understatement. She is so much more than just another pretty sound. Her voice is thick with complex layers of raspy emotion, soulfulness beyond her years, and sweet defiance, and the foundation of her talent is the versatility with which she manipulates that complexity. She makes it sound so effortless.
"21" is a great follow-up to "19". It is easy to listen to, yet each time it plays, there is something new to pick up. While the tracks aren't as memorable as they could be, what is memorable is the undeniable talent of this bright young star. She certainly hasn't reached the height of her ability. Rather she has put together a brilliant demonstration of how far she has come, and left her audience completely confident that she will continue to grow. "21" is fine production that leaves us breathless and ready for more.